Uniswap price has crawled back in 2023, helped by the strong performance of digital currencies and increased volume in its ecosystem. UNI token jumped to a high of $7.55 on Friday, the highest point since November 7. It has jumped by more than 44% from the lowest point in 2023.
Uniswap volume and fees rising
Uniswap had a mixed performance in 2022 as cryptocurrency prices plunged. As a decentralized exchange (DEX), the decline meant that more people pulled their money out of the industry. Therefore, daily trading volume slumped, pushing total revenue sharply lower. 
According to Token Terminal, Uniswap's best month ever was in May 2022 when it collected fees worth over $224 million. It was followed by November 2021 when fees rose to $181 million. Since then, fees crashed continually in 2023 and reached a yearly low of $20.6 million. 
There are signs that Uniswap's fees are bouncing back. As shown below, the network's revenue rose to $37.8 million in January as the volume processed rose.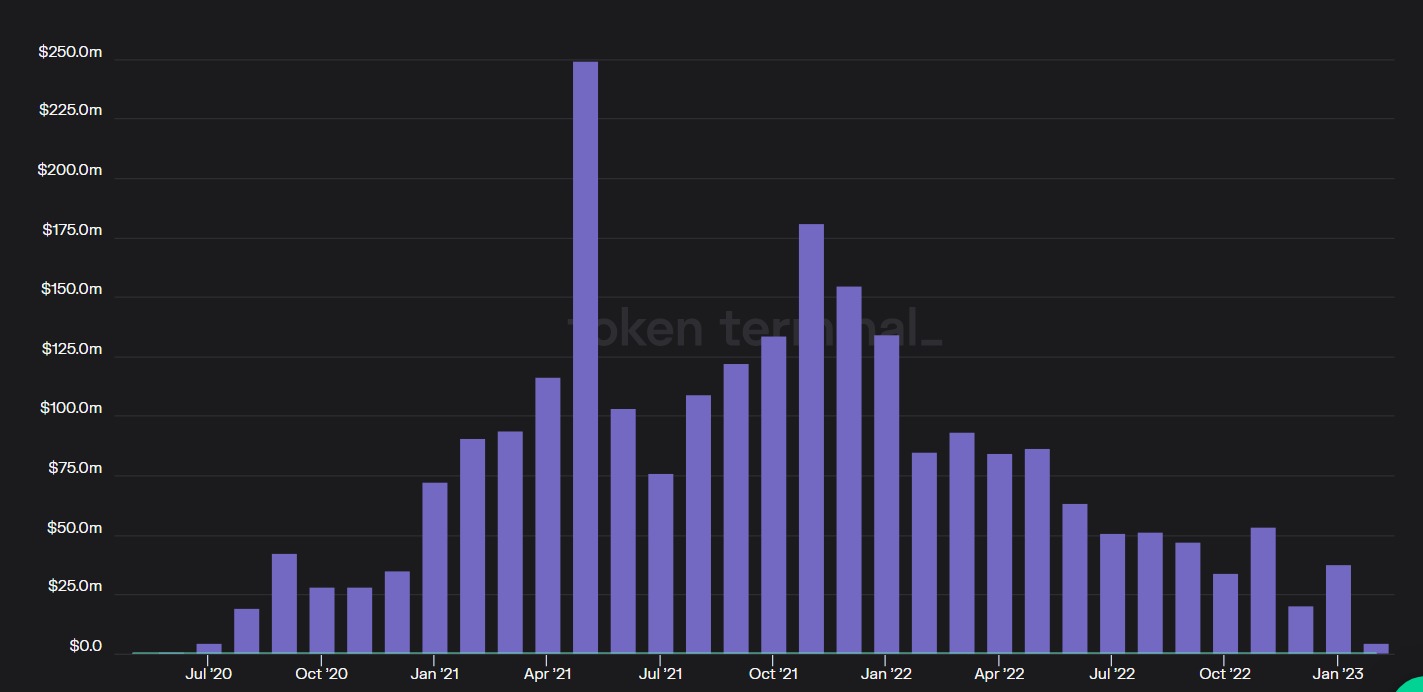 Other data shows that the situation is encouraging. For example, the number of active users in the ecosystem has bounced back in 2023. It had over 57k users on Thursday, the highest point since November 2021. 
The biggest challenge for Uniswap is that the competitive landscape is growing by the day. Popular DEX protocols like dYdX are gradually taking market share. For example, dYdX handled transactions worth over $1.35 billion in the past 24 hours compared to Uniswap's Ethereum version's $1.1 billion. 
Another challenge is that the highly hyped NFTs in Uniswap did not have a major impact since launch. Data by Dune Analytics shows that the volume of NFTs traded in Uniswap has been in a strong downward trend. The number of unique sellers and buyers in Uniswap were just 61 and 23, respectively.
Uniswap price prediction
The UNI crypto price has made a slow bullish breakout in the past few weeks. It has jumped above the ascending trendline shown in black. It has moved above the 25-day and 50-day moving averages. The coin is approaching the important resistance point at $7.80, the highest point on November 6. 
Therefore, there is a likelihood that the coin will continue rising as buyers target the key resistance point at $9.7, the highest point on July 9. The stop-loss of this trade will be at $6.